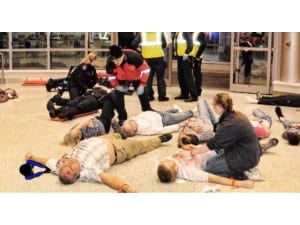 Course Dates: Open-ended
Enrollment Dates: Enroll Anytime
Who can Enroll: Students are added by instructors.
Course Language: English
Price: FREE
About this course
How critical is the need for an integrated approach to rapid response and one that includes every member of the public safety community? Find out how Hillsboro, OR Police, Fire, and EMS made this approach a reality, and see the effect it has had on their emergency response times and level and effectiveness. It's called the Rapid Response Treatment Model and it's working, not only for a potential rapid response to an active shooter, but also for much, much more. The training, though designed specifically for an active shooter scenario, can be used for any critical incident or calamity where Police, Fire, and EMS are all on the scene, such as a plane crash or natural disaster. Simply put, the key to this training model is using teamwork to speed up response times and consequently, save lives.