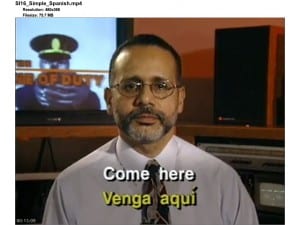 Course Dates: Open-ended
Enrollment Dates: Enroll Anytime
Who can Enroll: Students are added by instructors.
Course Language: English
Price: FREE
About this course
With almost absolute certainty all peace officers at some point in their careers will deal with subjects who speak only Spanish. The Hispanic minorities in many of our urban and, indeed, rural communities are growing at a fast rate. Even communities in areas that traditionally had minimal, if any, Hispanic influence are changing. It's crucial, therefore, for officer safety and departmental liability that officers who deal with Hispanics have some knowledge of basic Spanish commands a cop would use. This program guides officers through the most commonly used law enforcement Spanish commands and teaches them via a very easy verbal refresher.